Rifle Stand
The stand comes with a carrying case that help the shooter to carry the stand while traveling and practicing .
• The telescopic stand has a minimum height of 25 inches and maximum height of 60 inches .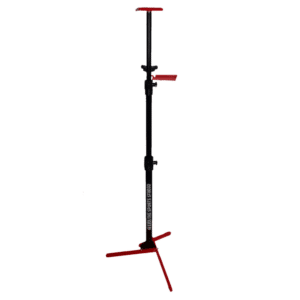 The Rifle Rest has a high quality rubber that provides very good grip and helps shooter to maintain their upper body position .
The sturdy and versatile pellet tray clamp provides a very good grip on the stand and can be attached to any section of stand .
Pellet tray can be used in standing and kneeling position as well .
The pellet tray can be rotated in 360 ° providing you a comfortable reloading position .
The three legged base helps to gain a very stable position while shooting an even when the rifle is on the stand .
The legs can be folded up reducing the total length of stand while storing it in your kitbag .
Sturdy stand lock helps prevent slipping of stand while the rifle is at rest on stand .