Rink Pardini Grip Model SP22, SP1, HP32, mechanical trigger
₹22,500.00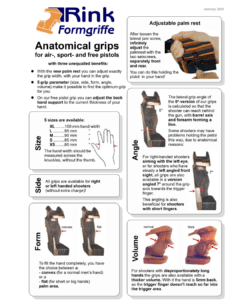 Vendor Information
Address:

4.82 rating from 49 reviews

Rated 4.82 out of 5 based on

49

customer ratings
Precihole Sports Rifle casePrecihole Sports Rifle case can easily accommodate your scoped air rifle. Good quality polyester and comfortable insides keep your rifle intact and protects it against scratches and dents. Made with high quality zips that will last long. it is Lightweight which makes it comfortable to wear. It has a large zippered pocket outside for storing pellet boxes or any small accessories. It comes with handle as well as a long strap to carry on shoulder. Comes in Black, Khaki and Camo options.Size - 45x10 Inch
Related products
-Barrel Weight weighs 30 Grams.

Fits all Walther LG400 Series Air Rifle.

-Comes with Lifetime Rust Free Warranty.

-Easy to install.
Whether you're a beginner or a seasoned professional, our goal is to help you succeed. To this end, we scrutinize even our best products for ways to make them better. We try out innovative materials and develop new production methods. When it comes to quality, we make no compromises, and sport shooters all over the globe appreciate it.
Pure Stainless Steel
Rust Proof, Quality Assured
Helps in ISSF regulated Sports Equipment Balancing
Strictly According to the ISSF Regulations
Make in India, Self Reliant India
Extrem slim and compact
Antiglare tube
24 clicks (0,02mm each)
Ideal for balanced standing, off-hand and supported
Ideal for wind-shooting
15-20 Days Delivery Time
Please specify the article number and color code with your order.
| | |
| --- | --- |
|  Anschütz |  19088884 |
|  Feinwerkbau |  19088885 |
|  Walther |  19088886 |
Distance pieces with height of 5mm.
Packing: Set of 8 Pieces.
Reduces pressure from neck.
Comply with ISSF rules
Metal Cheek Piece with block for Feinwerkbau Air Rifles. – Cheek Piece has Anti-slip coating. – Light weight yet Sturdy. – Easy to install.Cheek Piece for Feinwerkbau
Free Plate helps you to extend your contact 3 buttplate to maximum length. It can be easily fitted on any air rifle having contact 3 buttplate.
Allows Variable offset on Contact 3
Provides Maximum freedom under the armpit
Eases pressure from neck
Weight approx. 56 grams
RIGHT/LEFT
Excellent Gripping for Cheek
Rust Proof, Quality Assured
Strictly According to the ISSF Regulations
Make in India, Self Reliant India